Besharam Bewaffa Song's Lyrics In English And Hindi.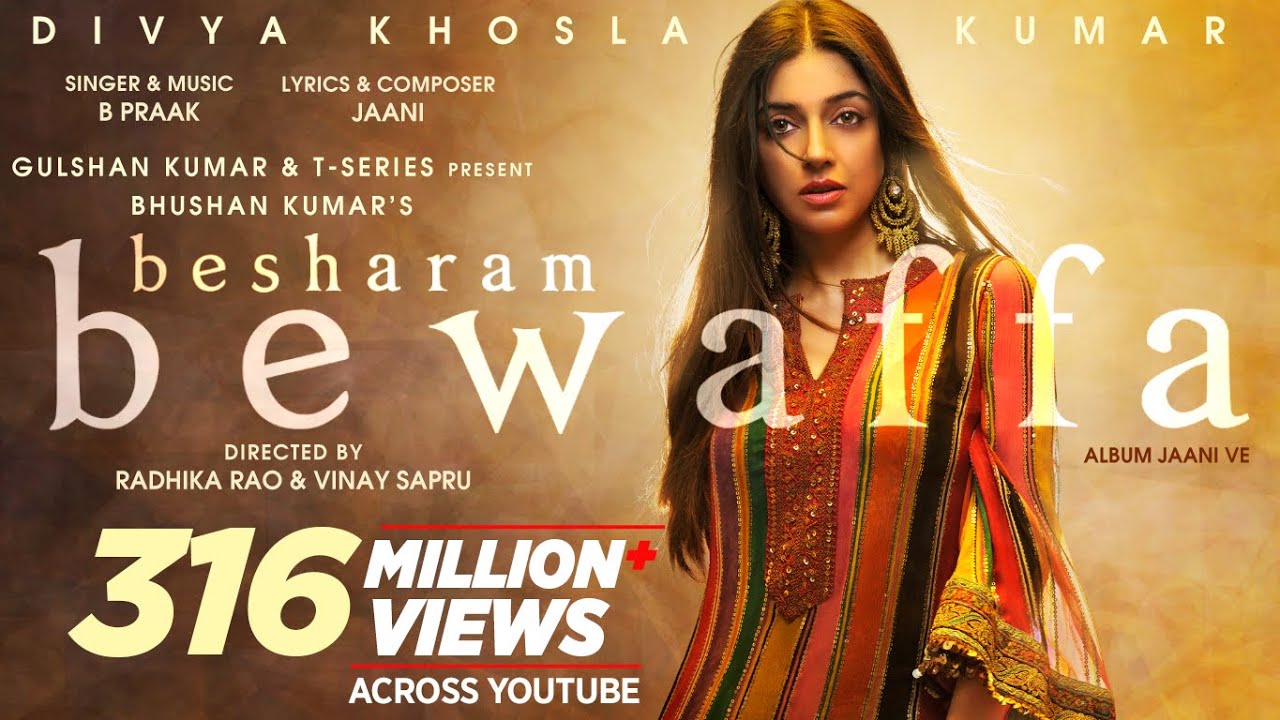 B Praak – Besharam Bewafa Songs Lyrics
Gulshan Kumar and T-Series present 'Besharam Bewaffa' Lyrics by B Praak is the Latest Hindi song from the album Jaani Ve, featuring Divya Khosla Kumar. The song is sung by B Praak while the lyrics are enclosed and composed by Jaani, while music is also given by B Praak and the video is directed by Radhika Rao & Vinay Sapru.
बेशरम बेवफा BESHARAM BEWAFA LYRICS
Songs Credits:
Song – Besharam Bewaffa
Singer – B Praak
Music & Music Themes By – B Praak
Lyrics & Composer – Jaani
Arranged And Production By – Gaurav Dev Kartik Dev
Piano By – Kartik Dev
Flutes by – Paras Nath
Violin By – Manas
Mixed and Record By – Gurjinder & Akash (saffron Touch Studios)
Story Concept & Dialogues By – Radhika Rao & Vinay Sapru
Cast – Divya Khosla Kumar, Gautam Gulati, Siddarth Gupta, Pranati R Prakash
Dop – C.R. Ravi Yadav
Production Designer – Parichit Paralkar
Choreographer – Firoz A Khan
Costume Styling Concept & Ideas – Radhika Rao & Vinay Sapru
Costume Stylist For Divya Khosla Kumar – Sanjay Kumar Dauhaliya
Costume Stylist For All Other Cast – Vibhuti Chamria
Rao & Sapru Films Commercial & Operations Head – Priyanka S Jaiswal
Casting Director – Nihal Khan
Divya Khosla Kumar Hair Stylist – Shaikh Haseena Khatoon
Divya Khosla Kumar Make-Up – Shraddha Naik
Production Head – Raj Bavaria & Manish Shukla
Company Make Up & Hair Stylist – Ravi Solanki
Offline Editor – Abhishek Kumar Singh
Direction Assistants – Rajkumar Dubey, Arun Pandey, Aayansh Pandey
Making & Stills – Brijesh Singh
Location Manager – Surjeet Singh/Parjeet Singh (Dev Entertainment)
Background Music By – Abhijit Vaghani
Mix & Mastered By – Gurjinder Singh & Akash Bambar
Dialogue Mix & Mastered By – Eric Pillai (Future Sound Of Bombay)
Graphic Art – Prinaka Paralkar
President Marketing, Media & Publishing – Vinod Bhanushali
President Digital & Legal – Neeraj Kalyan
Senior Vice President Films – Shiv Chanana
Music Team – Raj Chanana, Shivam Chanana, Sonal Chawla, Sonu Srivastava, Vivin Sachdeva
Marketing Team – Bhavesh Bhanushali, Pooja Vora, Rajendra Makula, Shivam Chanana
Pr Team – Payal Nair, Alok Srivastava
Promotions Team – Mita Choudhary, Aishwarya Shetty, Yesha Shah, Naren Tomar, Rajesh Attri, Alok Kumar Shukla
Digital Team – Varun Arora, Juhi Singh, Akanksha Chaudhary, Garishma Gandhi, Prashant Shetty, Andrew D'souza, Sana Shaikh
Post Production (T-Series) – Anil Shinde, Rishi Ram Neupane
Collaboration Partner – Maximus Collabs
Art Assistant – Chilman Bhasin, Shikha Ghutla, Aneri Shah
Choreographer Assistant – Aleena Shaikh
Dop Assistants – Imran Bandi, Jayanth S, Jayakumar S
Casting Assistant – Drisha Jain
Costume Assistant For All Other Cast – Deepika Sawlani
Production Assistant – Prateek Singh, Shubham Tiwari, Asim Momin
Post Production Studio & Colorist – Image Devices (I) Pvt. Ltd.
Video Produced By Rao & Sapru Films Pvt. Ltd.
Music Label – T-Series
Besharam Bewafa Songs Lyrics In English:
Ho Mainu Jidhe Karke
Chhadeyaa Dil Apne
Cho Kaddeya Ho Mainu
Jidhe Karke Chhadeya
Dil Apne Cho Kaddeya
Dahnu Chhad Ditta Ya
Hale Vi Naal Ae
Ho Besharam Ho
Behaya Ho Bewafa
Ho Tera Ki Hal Ae
Ho Tera Ki Hal Ae
Ho Besharam Ho
Behaya Ho Bewafa
Ho Tera Ki Hal Ae
Ho Tera Ki Hal Ae
Ho Kya Tu Ab Vi Waisa Hai
Log Yeh Jeisa Kehta Hein
Ho Kya Tu Ab Vi Waisa Hai
Log Yeh Jeisa Kehta Hein
Chhadar Badalti
Rehti Hai
Aur Shakhs Badalte
Rehte Hain
Chhadar Badalti
Rehti Hai
Aur Shakhs Badalte
Rehte Hain
Ya Badal Gaya Ae Tu
Ya Phir Ohi Hal Tera
Ya aj Bhi Man Bhardae
Bas Jismn Nal Tera
Mujhe Maf Kario Maine
Yu Puchha Hal Tera
Oh Teri Badal Gayi
Ya Ohi Chal Hai
Ho Besharam Ho
Behaya Ho Bewafa
Ho Tera Ki Hal Ae
Ho Tera Ki Hal Ae
Ho Teri Yad Mainu Tarpaye
Ho Tang Karde Tere Saye
Ho Mere Khoon chusdi Rehendi
Yad Teri Wad Khaye
Ho Taniu Koyi Samjhaye
Haa Meri Jan Nikaldi Jaye
Ho Par Tainu Mere Jani
Meri Yad Kade Na Aaye
Oh Saddi Tutti Nu
Aj Duja Sal Hai
Ho Besharam Ho
Behaya Ho Bewafa
Ho Tera Ki Hal Ae
Ho Tera Ki Hal Ae
Ho Besharam Ho
Behaya Ho Bewafa
Ho Tera Ki Hal Ae
Ho Tera Ki Hal Ae…
Besharam Bewafa Songs Lyrics In Hindi:
हो मुनु जिधे करके
छाड़ेया दिल अपना
छो कदेया हो मुनु
जिदे करके छेडिय़ा
दिल अपना छो कादिये
दहनु छद दित्ता या
हेल ​​वि नाल ऐ
हो बेशरम हो
बेहया हो बेवफा
हो तेरा का हाल ऐ
हो तेरा का हाल ऐ
हो बेशरम हो
बेहया हो बेवफा
हो तेरा की हाल ऐ
हो तेरा की हाल ऐ
हो क्या तू अब भी वेसा है
लॉग ये जीसा केहता हेइन
हो क्या तू अब भी वैसा है
लॉग ये जीसा केहता हेइन
चदर बदालती
रेहती है
और शख्स बदलते
रहते हैं
चदर बदालती
रेहती है
और शख्स बदलते
रहते हैं
हां बादल गया ऐ तू
हां फिर ओही हाल तेरा
या आज भी मन भरदे
बास जिस्म नाल तेरा
मुजे माफ़ करियो मेन
यू पुछा हाल तेरा
ओह तेरी बादल गायि
या ओही चल है
हो बेशरम हो
बेहया हो बेवफा
हो तेरा का हाल ऐ
हो तेरा का हाल ऐ
हो तेरी याद मडु तरपाए
हो तांग करदे तेरे सई
हो मेरे खूने चुसडी रेहन्दी
यद तेरी वाड खाय
हो तनिउ कोइ समुझाए
हा मेरी जान निकलदी जाए
हो पर तेनु मेरे जानी
मेरी याद कदे न आये
ओहि साड्डी टूटि नु
अज दूजा साल है
हो बेशरम हो
बेहया हो बेवफा
हो तेरा का हाल ऐ
हो तेरा का हाल ऐ
हो बेशरम हो
बेहया हो बेवफा
हो तेरा का हाल ऐ
हो तेरा का हाल ए …
More Songs Of B Praak:
Dil Tod Ke Official Song – : B Praak Lyrics
Jinke Liye (Official Video) Neha Kakkar Feat -: Neha Kakkar Feat. Jaani Lyrics
Teri Mitti – Kesari – : B Praak Lyrics
Pachtaoge Lyrical | Vicky Kaushal, Nora Fatehi | Arijit Singh | B Praak
Baras Baras ( Yunki a nazar jo nazar se mili): B Praak
More Songs Of Jaani:
Jinke Liye (Official Video) Neha Kakkar Feat -: Neha Kakkar Feat. Jaani Lyrics
Yaad Piya Ki Aane Lagi – Neha Kakkar, Tanishk Bagchi, Jaani Songs Lyrics